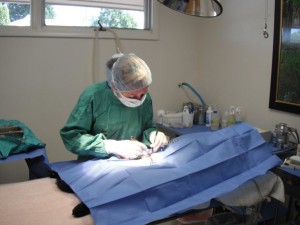 At Glacier Animal Hospital, the entire staff understands that having a pet undergo anesthesia and surgery is a big and often difficult decision. We take every precaution to ensure each animal's surgery is as comfortable and painless as possible. It all starts with one of the veterinarians having a discussion with the pet owner to explain why a procedure is necessary and what it will entail along with any expected post-operative responsibilities for continued care at home.
Once the decision to proceed with surgery is made, any pre-operative recommendations such as pre-surgical blood analysis or radiographs are discussed with the pet owner, and a date for the surgery is scheduled. On the actual day of the animal's surgery, a variety of pain control medications are administered to block pain perception before the actual procedure. We have computerized anesthetic delivery systems which make anesthesia much less worrisome, but a technician or assistant is assigned to monitor an electrocardiogram (EKG), oxygen saturation, and depth of anesthesia for every pet while the veterinarian performs the surgery. The same technician will then be with your pet for the entire recovery from anesthesia.
Soft tissue surgeries routinely performed in our hospital include:
Spays and Neuters
Bladder Surgery
Intestinal Surgery
Feline Declaw
Cancerous Mass Removals
Splenectomy
Dermatological Procedures
Thoracic Surgery
Gastric Emergency Surgery
Trauma Management
This is only a brief outline of the types of surgeries we can do. Some procedures, however, may be too complex for a general practitioner to perform and are best handled by surgical specialists. We have several surgical specialty practices where we can refer complex cases with the two most notable being Washington State University's College of Veterinary Medicine in Pullman, Washington and the Veterinary Surgical Specialists in Spokane, Washington.